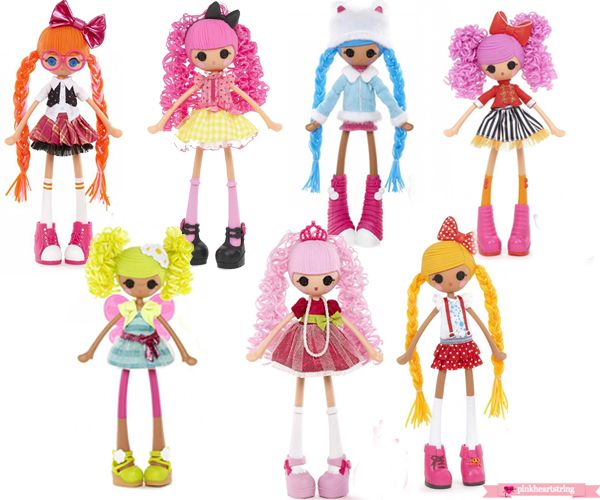 These are the girls that stole every Lalaloopsy lover's heart and I am one of them. It is really like love at first sight! Lol. But who will not go gaga over these pretty dolls? It's like a fusion of Manga or Anime and Lalaloopsy!

I have posted prototype photos before and I was really hoping that the final output will look like this. And yes, MGA Entertainment gave us exactly the kind of the dolls we will love. So, I found the dolls in Amazon after some digging and got the images from there. As of now, these aren't available yet but feel free to click on the links and bookmark them if you want to so that you can get them when they are already available.

Lalaloopsy Girl's Jewel Sparkles Doll

Hello! Jewel Sparkles here! I was sewn from a royally sparkly princess' dress, which explains why I love to be in charge - It just comes naturally. All my friends come to ME (and my cat/style advisor) for ALL their fashion emergencies. And in extreme cases I will even share my tiaras.

Made from: a Real Princess' Dress
Pet: Persian Cat
Stitch on Date: March 13th (Jewel Day)










The all time favorite Jewel Sparkles will surely bring in sparkles to your eyes because of how pretty she is! Look at how she is ready for a party! And she comes with her own pajamas too.

Lalaloopsy Girl's Crumbs Sugar Cookie Doll

Hello, my name is Crumbs Sugar Cookie and I was sewn from a baker's apron. My pet mouse and I have perfected recipes that satisfy any sweet tooth! Lately, we've forced ourselves to get a little more, um well… creative ;) What do think about bubblegum flavored cupcakes sprinkled with a dash of love? <3 I guess we will find out what our friends think during teatime!

Made From: a Baker's apron
Pet: Mouse
Sewn on Date: Dec 4th (National Cookie Day)














Pretty Crumbs Sugar Cookie always looked great in her pink and yellow attire. Like Jewel, she comes with pajamas and hair clips too. Lovely combination of patterns for her blouse and skirt.

Lalaloopsy Girl's Bea Spells-a-Lot Doll

Hello! Bonjour! Hola! Kon-nichiwa! My name is Bea Spells-A-Lot and I was sewn from a schoolgirl's uniform. Plus, I just got glasses, which aside from making me look super scholarly, help me read "between the lines". *wink* I love being on top of all the news, and I can always count on my pet Owl for spreading the word by hooting and tweeting around.

Made from: a School Girl's Uniform
Pet: Owl
Stitch on Date: October 16th (Dictionary Day)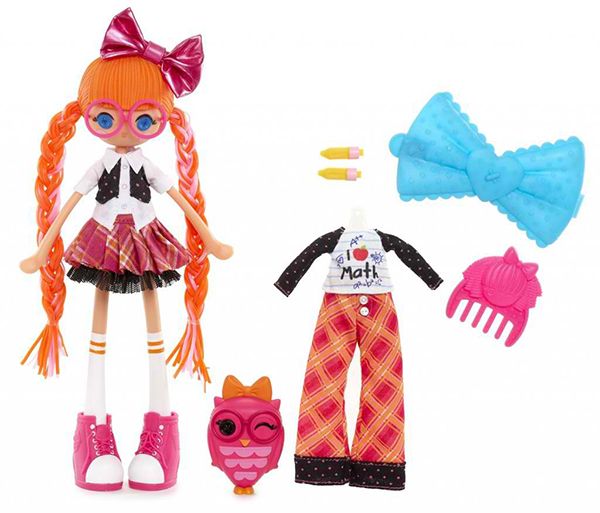 Studious Bea Spells-a-Lot is wearing a school uniform and I love her tee with the words "I Heart Math" on it! Seems like she is the only one with a two toned hair which still changes color.

Lalaloopsy Girl's Peanut Big Top Doll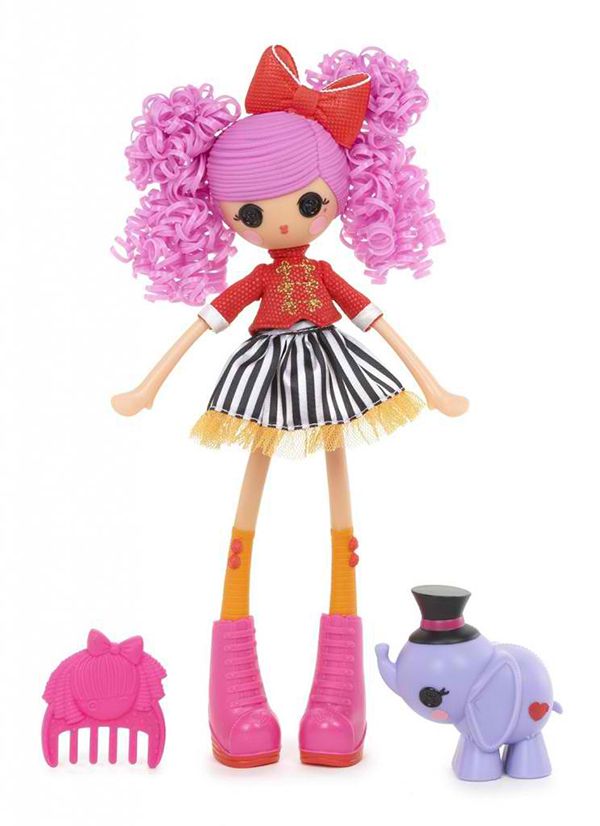 I know someone who is a Peanut Big Top fan and I know she will really like the look of Peanut here! I can see her someone from a band. Cute outfit! The pink boots are very lovely!

Lalaloopsy Girl's Mittens Fluff N Stuff Doll

Hi, there! I'm Mittens Fluff 'n' Stuff. I was sewn from a super warm and fuzzy scarf- cool, right? Snow Days are my fave 'cause I get to cozy up in my lucky leg warmers. (the pink ones with stripes) I love to chill out with my pet polar bear, and a mug or two of hot cocoa… Oh! and of course tons of marshmallows!

Made from: An Eskimo's Scarf
Pet: Polar Bear
Stitch on Date: December 21st (1st Day of Winter)





Seems like Mittens is always ready for the cold with that cute hat which reminds me of Bundles, her little sister. I like the floral design on the pajamas and her polar bear print on the shirt.

Lalaloopsy Girl's Pix E. Flutters Doll

Hey! I'm Pix E. Flutters and I was sewn from a super glittery fairy's dress. For some reason my wings start to flutter when I get butterflies in my stomach- especially right before a POP quiz! Oh! And I LOOOOVE glitter! But not as much as I love my pet firefly who always helps me see the brighter side of things.

Made from: a Fairy's Dress
Pet: Firefly
Stitch on Date: June 24th (Fairy Day)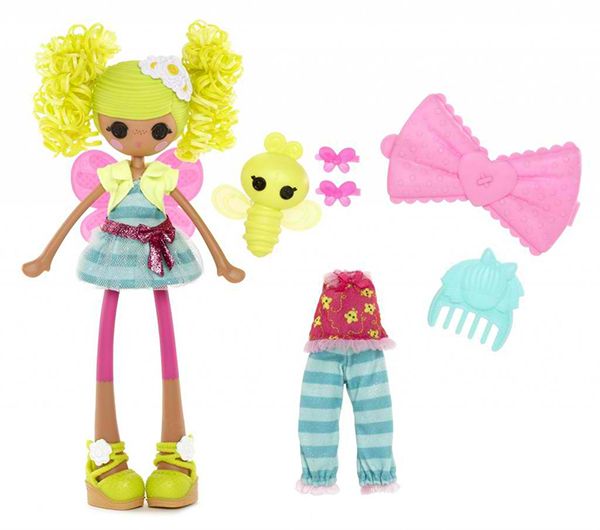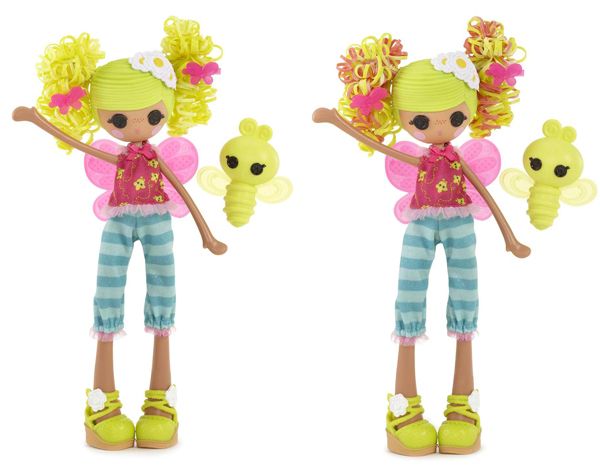 I like it that Pixie still have wings and pigtails just like how she looked like as a large doll. Isn't she pretty? She is one of my fave dolls and she looked really great with her striped dress with a light yellow bolero.

Lalaloopsy Girl's Spot Splatter Splash Doll


Spot, the artistic girl rocks that polka dot skirt with suspenders. And look at her shoes! It is very nice isn't it?



Lalaloopsy Girl's Cloud E. Sky & Storm E. Sky Doll (2-Pack)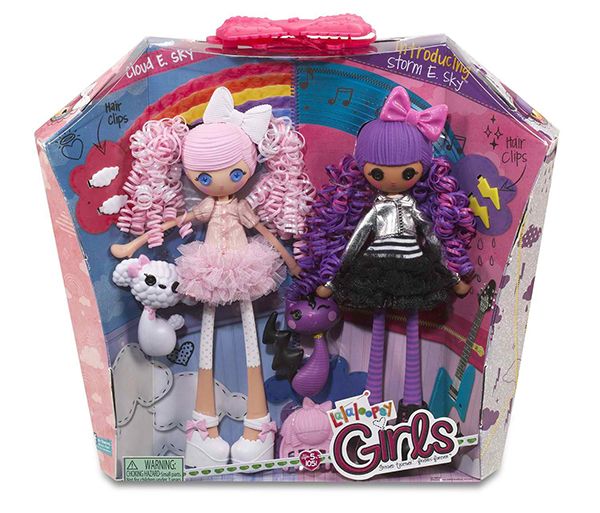 This one comes as a set featuring Cloud E. Sky & Storm E. Sky. Just the perfect pair indeed! Look at their contrasting look and colors too. It doesn't have a pajama set though but there are hair clips for both of them.

All of the dolls have changing hair colors. I don't know how they change but maybe with water like Coral Seashells. Not sure though. They all come with a pajama set, their pets which are all grown-up too, hair clips and a big bow which is actually the handle of the box. I like it that their attire is really similar to their original look. But I'm sure you noticed how cute their shoes are!

Are you excited for the release of these dolls? I'm sure you are! Watch out for the links above and be the first to get these lovely dolls! Some of them are already available from Amazon from time to time.



Disclosure: Amazon affiliate links included. I will be compensated if you purchase through my link but won't affect the price of the items you'll get. But it would help me grow my blog.