This is the new found love of my little princess. Lol! Well, she just discovered how cute and adorable the Palace Pets are. We already love the Disney Princesses but these adorbs pets are something that would soon end up in my daughter's toy box because she had been eyeing some
Disney Palace Pets Toys
in the mall.
But I love the cartoon version of the Palace Pets because they look really cute. I could stare at them for a long time!
I love the idea that each princess had their own pets. I guess some have two or pets. Here, I am going to show you some pets owned by each princess.
This is Cinderella's Bibbidy wearing a carriage crown. I like her color in pink and blue but Bibbidy's favorite color is white.
This pretty bunny named Berry is Snow White's pet with stunning golden accents.
Rapunzel has her own pony too named Blondie. Yes, the color of this pony matches Rapunzel's long hair!
Teacup is a beautiful dog with pink bows and roses owned by Belle.
Aurora won't be sleeping all day anymore. She can also spend the day riding on her gorgeous purple pony Bloom with swirly curls!
Who wouldn't know Sultan? The every loyal friend and pet of Princess Jasmin.
When Ariel got her feet, she could also take care of pets too like Treasure and his cute purple puppy Matey she found near the harbor.
Lychee is a brave pony owned by a brave princess, Mulan.
I find Windflower really beautiful with its feathery crown. This is a pet owned by Pocanhontas.
Lovely, right? As of now, there are 26 Disney Palace Pets. I don't know if they will still add more. Maybe. Remember I was talking about toys? Here are some Palace Pet toys that I would get for my little one who are so into these cutie pets!
Disney Princess Palace Mini Pets Doll (Set 1)
Disney Princess Palace Mini Pets (Set 2)
Disney Princess Palace Pets Deluxe Figure Play Set - New
Disney Princess Palace Pets Pamper Spa Playset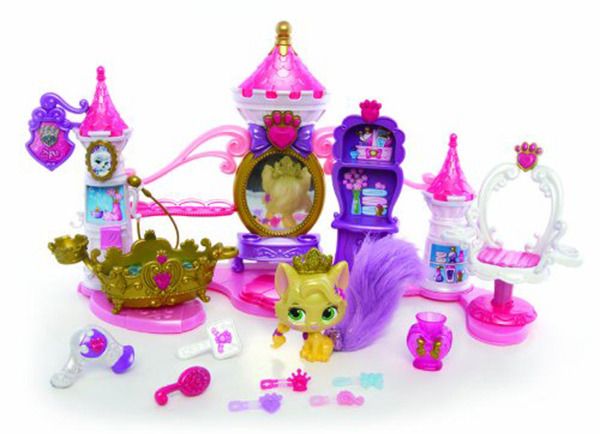 After seeing all this, you will surely understand why my daughter likes the Disney Palace Pets so much. Yup, they are so so so adorable! Are your kids into these too?
Well, I won't wonder if your little princesses also love Disney Palace Pets toys. What's nice about these collectibles is that these could be beautiful displays on a shelf or inside glass cabinets when your child is not playing with it.
Toys like this definitely bring out the Disney fan in us! Also, take a look at some Disney Frozen toys that are equally adorbs as this list.
Images from: Disney Palace Pets Wikia
Disclosure: Affiliate links included in the above post.